CreativeDays Stuttgart 2021 – Design.Arts.Architecture.
The CreativeDays presents a virtual symposium as part of the virtual Festival Stuttgart meets Mumbai.
At the CreativeDays symposium are outstanding lectures, hold by Indian and European architects, who talk about sustainable design and the challenges of the conurbations for the future of cities. One of the guest countries is India due to the town twinning between Stuttgart and Mumbai. The speakers give lectures about their projects, our challenging times and their vision about the future of cites.How did the pandemie change their way of working? What impact will this have on architecture, urban planning and the human beings in the long term? What positive resulting effects will arise? What will change after this time? What visions do they have for the future of cities and what goes beyond the architecture?
CreativeDays – Virtuelles Symposium:
»The Future of Cities – Beyond Architecture«
Vorträge | Diskussion | Q & A
Donnerstag, 25.02.2021, 14.00-15.30 CET
Ort: Online via ZOOM

Key Note Speakers:
Nandini Somaya Sampat, Architektin, Director SNK architects, Mumbai
More Information SNK

Prof. Tobias Wallisser, Architect, Partner LAVA
More Information LAVA

Moderation:
Poonam Choudhry, Designer, Director poonamdesigners, Founder CreativeDays

Anmeldung unter:
[email protected]
Nach der Anmeldung bekommen Sie den Link zugeschickt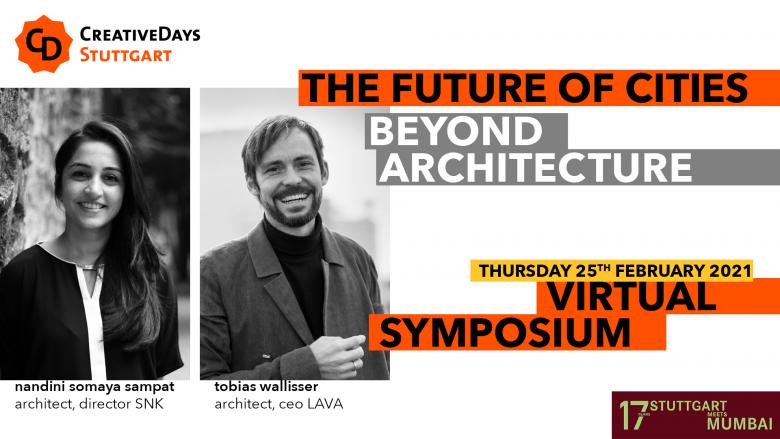 © poonam-designer.com
Quand

25 February 2021, 14:00 to 15:30

Où

Online Event

Organisateur

poonamdesigners

Lien
Magazine